I LOW CONSTRUCTION
Gradis Invest Ltd. offers complete construction service in the area of civil engineering.
Our offer includes wide spectrum of services which guarantee fast and quality construction of all projects regarding construction of roads, urban roads, the exterior design of office facilities and plateaus.
Therefore, among others we offer the services of designing and rendering all construction work (excavation, transport of waste material, preparation of terrain) and transport (lift transport – transportation of scattered terrain) by which we provide our clients with everything that is necessary for a project to be completely finished.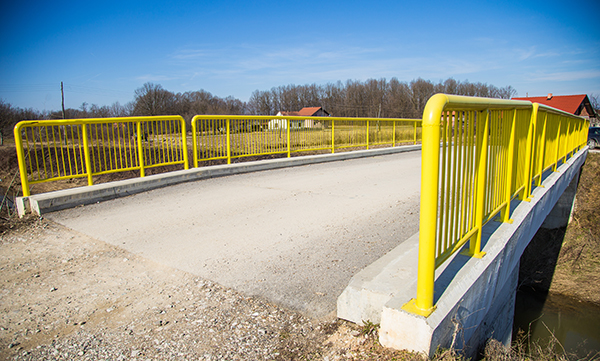 II DESIGNING
Gradis Invest d.o.o. posjeduje licencu za izradu i reviziju tehničke dokumentacije za objekte za koje odobrenje za građenje izdaje organ lokalne samouprave. Vršimo izradu kompletne projektne dokumentacije iz oblasti niskogradnje i obavljamo projektantski nadzor nad izvođenjem radova na izgradnji objekata. Gradis Invest d.o.o. garantuje visok profesionalni nivo izrade i obrade projekata, kao i poštovanje dogovorenih rokova.
Vršimo izradu projektne dokumentacije:
Exterior arrangement of objects
Traffic connections on the highway, state roads of the 1st and 2nd type respectively (roadways and regional roads)
Projects of all types of terrain work
Projects of urban and local roads
Crossroads with circular intersection
Designing of gas stations with accompanying facilities
Designing of roads and plateaus for industrial, commercial and agriculture complexes
Designing of urban roads with a complete utility infrastructure
Designing of parking spaces
Designing of plateaus, industrial roads, etc.
HOW DO WE PROJECT?
The making of technical documentation is based on the usage of modern CAD technologies and specialized software which are used for designing projects from the area of civil engineering (Gavran Civil Modeller, Autodesk AutoCAD, Autodesk CIVIL 3D, etc.).
Gradis Invest Ltd. dedicates great attention to the training of the workers considering the usage of the latest software technologies and practical experience on the field.
Training of the workers
100
III CONSTRUCTION AND ENGINEERING
Construction and maintaining of roads is a complex and demanding business. "Gradis Invest" Ltd. is a company which is in business of constructing and paving of roads for many years now. Our company has great experience which is acquired through many projects that we have successfuly constructed; from major projects (roads, streets) to minor projects (parking spaces, yards, etc.).
Additionaly, we carry out and realize already aproved projects with the possibility of refinement of several different specialties for certain operational services within construction work or some systems which are still in the process of realization. We secure the most efficient solutions and provide professional engineering services with the use of the latest discoveries from these areas.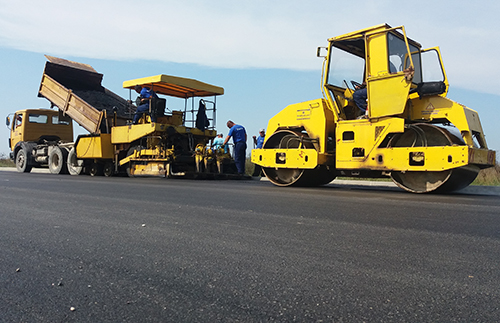 IV VANJSKO UREĐENJE OBJEKATA
Posebna prednost preduzeća je kompletnost procesa izrade vanjskog uređenja u oblasti infrastruktrure za potrebe novoizgradjenih i postojećih poslovnih i stambenih objekata, počevši od izrade projektne dokumentacije pa sve do izrade gotovog objekta. Preuzimamo odgovornost za sve faze procesa izgradnje, od izrade projektne dokumentacije do finalnog završetka projekta, vršimo koordinaciju svih učesnika na projektu, planiranje, praćenje i nabavku materijala, kontrolu kvaliteta izvedenih radova, poštujući zadate vremenske rokove i obezbjeđujući kvalitet izvedenih radova.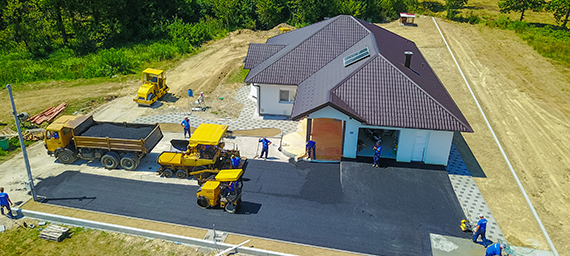 V INSTALLATION OF CONCRETE BLOCKS
Our offer includes mounting of concrete blocks by established manufactures. Due to the mosaic nature of concrete elements, the quality of the preparation surface is of most imporantance because it guarantees long funcionality of the paved surface and because it is necessary for the surface to maintain its original form for a long time. Wide range of forms, colours and dimensions of concrete elements largely influences the final look of commercial buildings or housing.

GRADIS INVEST LTD
Make sure why we are the best!